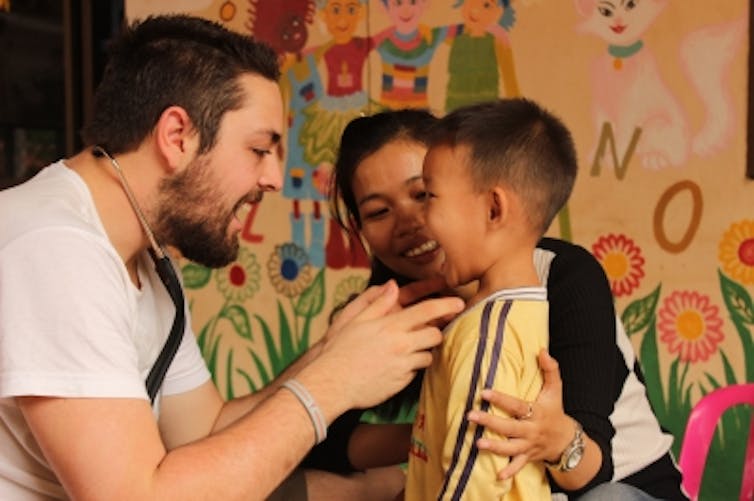 With borders closed and airlines grounded for almost six months, COVID-19 effectively shut down the global tourism industry at a scale never witnessed before.
Besides leisure travel, restriction of movement threatened to destroy volunteer tourism businesses and NGOs (non-governmental organisations), devastating the projects that depend on them for support. The pandemic has especially hit hard the recruitment of volunteer tourists, with some volunteer-sending organisations already forced to take measures to survive.
Our work explores many aspects of volunteer tourism. Given the impact of COVID-19 on tourism in general, we wanted to understand how the pandemic has particularly affected this sector. For our study we interviewed Peter Slowe, founder and director of Projects Abroad – a UK outfit that sends paying volunteers to work on projects in developing countries – to gauge how such organisations are dealing with, and recovering from, the effects of the pandemic.
Ripple effect
In February and March, Projects Abroad reported that volunteers were down by 78% and then in April by 98%, which led to "unavoidable cuts" in its global workforce. Slowe says that some project types are faring better than others. Schools and day-care centres will generally survive, but still suffer from the lack of volunteers and the funding that comes with them. On the other hand, some conservation projects that are normally supported by volunteers may not.
A ripple effect is occurring throughout the sector, with those who indirectly rely on the spend of project volunteers turning to more traditional ways of securing their income. There is evidence that poaching and logging are on the increase again.
Slowe is also worried about the future of human-rights projects which simply can't continue without support:
We don't have the volunteers, and there's nothing we can do if Projects Abroad itself, with its mission to support the disadvantaged in the poorest countries, is not to survive … Without it there can be no rebuilding.
With projects effectively halted, even as lockdown eases, priorities on the ground may change, jeopardising the foundations and philosophies of projects built up over many years. Everything these organisations and local NGOs have worked so hard to build is threatened, but there is very little they can do to stop it.
Dark clouds and silver linings
In this difficult terrain, many people are taking a wait-and-see approach. Even though travel restrictions are gradually being lifted, it is unclear how quickly – or fearfully – young volunteers will react to any opening up.
Despite the dark clouds, Slowe believes that there is a silver lining. He accepts that the volunteer tourism industry has faced a litany of criticism, including doing more harm than good, being self-congratulatory and disingenuous, boosting CVs rather than alleviating poverty and suffering, undermining local labour economies, and allowing foreigners to do jobs they would not be qualified to do back home.
This is an excerpt from an article by Konstantinos Tomazos and Samantha Murdy, originally published on The Conversation.