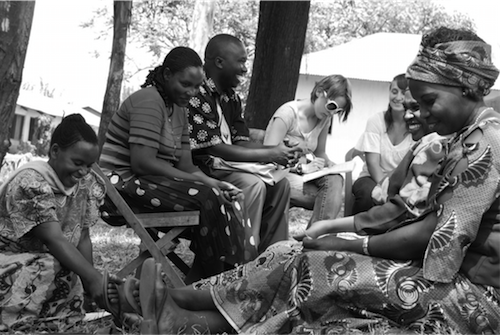 #StopOrphanTrips Blogging Blitz
Record numbers of students are choosing to study, travel, and serve abroad through Gap Year organizations, alternative break programs, and tour agencies. Voluntourism, volunteering and traveling a foreign country at the same time, has become a popular rite of passage for high school and college-aged students.
As a former study abroad participant and international volunteer, I can vouch for the personal, professional, and academic benefits of these intercultural immersion and exchange programs. These programs supplement classroom lessons through experiential learning opportunities and build student global awareness.
My personal experiences have also made me aware that short-term service trips can create more problems than they solve. While walking through the tourist areas of Nepal, it was impossible not to notice the leaflets posted on busy street corners advertising volunteer opportunities in local orphanages. Messages of "Touch a life…save the world!" accompanied pictures of smiling Westerners surrounded by crowds of Nepalese children. Similarly, during a semester in South Africa, I encountered promotions for "drop-in play time" at a township group home, offering student volunteers a brief chance to interact with marginalized community members. Even an alternative break trip to Mexico included a short afternoon excursion at an orphanage, where hugs and picture taking were encouraged before boarding the bus back home.
Examining Motivations & Costs
Students have a long list of motivations for engaging in international service. They pursue a unique experience to learn about another culture. They look to to develop new skills to build their resumes/CVs. They want to create and share memories while also making a contribution.
Gap Year and alternative break program providers as well as travel agencies tailor their offerings to fit these desires. A quick internet search shows that various kinds of volunteer placements are included in adventure travel itineraries, rather than packaged as a separate experience. As the quantity and variety of international service programs have increased, the "marketplace" of options has turned student experiences into "products". In this market economy, attention is given primarily to the development of the student, catering to the buyer's expectations, and fulfilling specific learning objectives. All this comes at a cost to the host community.
Why Orphan Based Tourism is Damaging
The argument here is that equal attention must be given to the local community, particularly when working with vulnerable populations like children. As interest in international service increases, there are more opportunities to volunteer within residential care centers such as orphanages and children's homes. Over 60 years of research shows that growing up in residential care (also known as "institutionalization") can have a negative impact on children's health, development, and life chances. Orphanage volunteering not only promotes the expansion of these facilities, but also makes children vulnerable to abuse when volunteer background checks are not required, creates attachment problems in children who are exposed to short-term visitors, and perpetuates the myth that many of these children are orphans in need of adoption. (1) In reality, it is estimated that more than 2 million children live in institutional care (2) and that four out of five children in institutional care have living parents. (3)
Interest in this type of volunteer experience can create an economic demand for more "orphans" and lead to the active recruitment of children into residential care facilities in order to attract foreign volunteers and financial support. As a result, well-meaning individuals and organizations can be responsible for fueling the separation of children and parents, keeping kids out of school to entertain tourists, and aiding corruption by those who are using these children for financial gain, all in the name of "service."
Volunteers not only have a direct impact on children in these residential care centers, but also perpetuate a greater, more systemic problem. In staffing and funding such facilities, volunteers sustain overuse of an alternative care model that should only ever be a temporary solution for a child. (4) The lack of understanding about the damaging impact of institutionalizing children and of more positive alternatives means that people do not hesitate to support such institutions.
Engaging in a Responsible Way
The main challenge here is that the general public, which is engaging in these experiences and driving the demand, is overwhelmed with international service program marketing but lacks resources to understand how to engage in a responsible way. This discussion is meant to kick-start a conversation and drive the demand of appropriate volunteer opportunities out of small, academic pockets and into larger circles.
The Importance of Education
First, we need to emphasize the need for appropriate education leading up to the student's international volunteer experience. If potential volunteers do not consider their options carefully, understand cultural  contexts, and ensure their skills and experiences meet the needs of the host community, volunteering can be wasteful, and at worst, harmful. Students must approach international service opportunities with a "learning before serving" mindset by completing cultural orientation before arriving and engaging in critical reflection throughout their experience. If international service opportunities are compared to an internship in the student's home country, students should expect to learn before "doing", instead of the common practice of treating foreign volunteers as experts. Individuals who are not qualified to work in a particular capacity in their home country (ie. providing medical care, aiding in social work, etc.), should not take on this role while in another community.
Responsible preparation also ensures students are globally competent to make ethical and responsible choices. This requires teachers to be informed global citizens who are comfortable globalizing their curriculum. Professional development opportunities, including cultural immersion educational trips, on-site trainings, webinars, online membership networking groups, and ready-made educational materials all help prepare educators to bring discussions about global issues into their classrooms.
Best Practices
Second, adhering to best practices will avoid perpetuating the very disparities and stereotypes international volunteer programs are working to eliminate. If you are a student pursuing an international volunteer opportunity, it is important to be mindful of the red flags to look for when considering a program. Alternatives, such as learning abroad and adventure touring programs, are open to students looking for an international travel experience, while online virtual exchanges link classrooms across the world, allowing students to collaborate on a project addressing a common social issue.
However, the argument is more than simply saying "no" to volunteering abroad. Both individuals and organizations looking to develop appropriate international service opportunities for students can benefit from guidelines of best practices. Standards like Fair Trade Learning offer an alternative global educational partnership exchange that prioritizes reciprocity in relationships through cooperative, cross-cultural participation in learning and service opportunities. Fair Trade Learning programs highlight the goals of economic equity, equal partnership, mutual learning, cooperative and positive social change, transparency, and sustainability. Instead of volunteering in an orphanage, these best practice guidelines promote developing mutually beneficial and sustainable relationships with community organizations that support positive parenting and family-based care systems.
Appropriate Support
Finally, efforts to encourage ethical and responsible volunteering require support. Groups such as Better Volunteering, Better Care, an initiative led by Better Care Network and Save the Children, connect a range of global actors and raise awareness of issues surrounding orphanage volunteering. Individuals or organizations interested in learning more about this initiative, or contributing to its development, are encouraged to contact the Better Volunteering Better Care team at [email protected].
This post is part of a month-long spread of articles aimed at raising awareness around the issues of orphanage volunteering #StopOrphanTrips. The campaign ends on June 1st, International Children's Day, with a call to volunteer travel organisations to remove orphanage trips from their product offerings. Please consider signing the petition. For more information visit www.bettervolunteeringbettercare.org.
Share this article on its original page by clicking this link and use the hashtag #StopOrphanTrips. 

Better Volunteering, Better Care. (2014). International Volunteering in Residential Care Centres.
UNICEF. (2009). Child Protection Report Card.
Brown, K. (2009). The Risks of Harm to Young Children in Institutional Care. Better Care Network.
United Nations General Assembly. (2010). Guidelines for the Alternative Care of Children.