Essential resources for accessible tourism

Opportunity or Obligation? With an ageing population across the world, and more and more people carrying some form of disability, making tourism destinations and facilities accessible to as wide a number of people as possible obviously makes economic sense. But for anyone working towards a more responsible industry it is simply common sense. Tourism can't be held up as truly responsible if some people are excluded from fully enjoying it. 
A Few Facts
Recent Headlines
Best Practice Examples – Hotels
Research & Publications
Experts & Speakers
Tools & Resources
Campaigns
Twitter accounts
Infographics
Websites
A Few Facts
A Few Facts
According to the World Health Organization (WHO), 15% of the world's population (1 billion people) is estimated to live with some form of disability.
Worldwide, the accessible tourism market is 1.3bn people, which when their friends and family are considered, increases to a market of 2.2bn people. Together they control over US$8 trillion in annual disposable income.
McKinsey predicts that by 2015 the baby boomer generation will command almost 60% of US wealth and in the travel sector, boomers will account for over 50% of consumption. Over 40% of these baby boomers will be retiring with some form of disability, which increases the value of this sector alone to over 25% of the market by 2020.
The United Kingdom found in its 2009 tourism survey that 12% of all persons who engaged in domestic tourism (at least one overnight away from home) had a disability or long-term health problems. These tourists also stayed longer and spent more than the average.
According to Visit England, 83% of people looking for access information to plan a trip use destination websites. But only one in three (39%) find it easy to find this information.
In 2014, one in five tourism day trips in England were taken by people with an impairment and their travelling companions, spending £9.1billion.
Recent Headlines
Recent Innovations & Solutions
Best Practice Examples – Hotels
Best Practice Examples – Hotels
Ilunion Hotels aims to be a profitable, sustainable company that incorporates people with some type of disability to the highest level possible within the workforce of its hotels, all of which are in Spain.
In 2014, 13.3% of staff had some type of disability. When subcontractors are included, the percentage rises to 40%. At two of its hotels the company has gone further still, and at these 'Special Employment centres' the percentage of workforce that are disabled is 75%.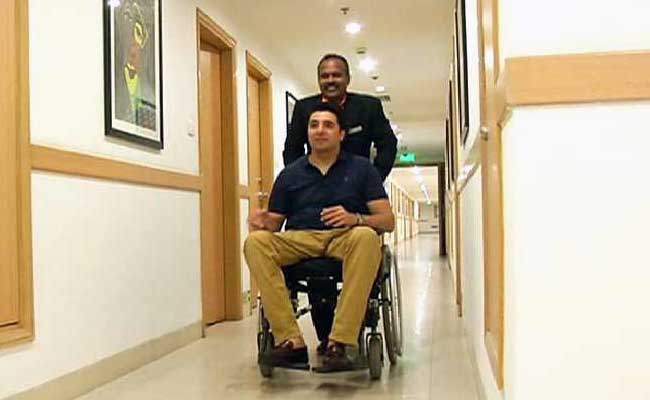 At Indian hotel chain Lemon Tree around 13 per cent of the employees, nearly 400 out of 3,000, have some form of disability.  Most of them are either hearing and speech impaired, and general managers in the chain are expected to learn sign language to communicate with them. The company also employs orthopedically impaired staff as well as those with Down's syndrome. The inclusive work policy has sensitised the staff to the needs of guests with disabilities.
Native Hotels, Italy, Spain, Portugal, Morocco
Native Hotels is a web portal for accessible hotels, designed by a group of European journalists. The Native Hotels website is accessible to millions of people, who because of physical or sensorial reasons have difficulty accessing conventional websites. All the 50+ hotels listed on the NATIVE Hotels Web site also have Braille and embossed signage on site. Hotels and experiences on the site range from specially adapted camel-saddles in Morocco to spas in southern Spain.
Scandic has drawn up a checklist of 110 points called Scandic's Accessibility Standard. This standard covers everything offered by Scandic and it is an integral part of all of Scandic's products and services. Scandic has also implemented smart design features in rooms to make them accessible for people with disabilities. In 2013, Scandic was the first hotel chain in the world to launch an online interactive training on disabilities that is open to everyone on Scandic's website.
Research & Publications
Research & Publications
Focuses on policy and best practice in accessible tourism, reflecting the "state-of -the-art" as expressed in a selection of international chapters. It brings together global expertise in planning, design and management to inform and stimulate providers of travel, transport, accommodation, leisure and tourism services to serve guests with disabilities, seniors and the wider markets that require good accessibility.
Inclusion disability, an ageing population and tourism are increasingly important areas of study due to their implications for both tourism demand and supply. This book therefore sets out to explore and document the current theoretical approaches, foundations and issues in the study of accessible tourism
The UNWTO Recommendations on Accessible Tourism for All are meant to be used as a general, basic mainstreaming framework for ensuring that people with disabilities have access to the physical environment, the transportation system, information and communications channels, as well as to a wide range of public facilities and services. Available in English Español Français
Essential article that poses the challenging question: "What if the first question we asked was, 'What is so unique about this situation that it justifies exclusion?' instead of, 'How much does it cost to make it accessible?'"
Paper from Mckinsey that provides a call to action for companies to understand and properly serve the ageing boomers as new customers, determine what role boomers can play in their organisation, shift products and services to address the rise and fall of boomer spending, and invest now to develop new products and services to address ageing boomers' needs, especially the unprepared segment.
Experts & Speakers
Experts & Speakers
Martin works on various media projects, as a consultant for copywriting, presenting, video production, social/new media tools, marketing strategy, website creation, motivational speaking, leadership,  disability awareness, access, diversity. 
Brian Seaman has 20 years experience in reviewing access for disabled and older people across all sectors of the tourism industry. He has designed and implemented Destination Access Audits for towns and cities across England, including for several Olympic and Paralympic destinations.Brian's advisory work has taken him across the UK and to Europe and the USA. Clients include Guoman and Thistle Hotels, MS Society, Livability, Vitalise, Historic Houses Association, VisitEngland and the Continuum Group of attractions plus many destinations. He has also been a judge on the M&IT Awards, the Catey Awards and VisitEngland Awards for accessibility.
Brian has also been instrumental in developing many groundbreaking access standards such as PAS88 and the National Accessible Scheme. He has also written Good Practice guides for England's tourist information centre network, the National Caravan Council, and was instrumental in the development of the 'Welcome All' training programme.
Head of Business Support, VisitEngland
As part of his role at VisitEngland, Ross is the in-house accessibility expert developing initiatives that help tourism businesses tap into the high value, growing accessible tourism market, to entice people with access needs to enjoy England. Ross led on the development of England's first Accessible Tourism Action Plan, providing a clear strategic direction for stakeholders nationwide, to position England as a leading destination for people with access needs.
Ross has also developed an innovative 'Access Statement Tool' that assists England's tourism businesses to improve the accessibility information they give potential visitors and spearheaded the production of a number of guidance booklets.
President, ENAT
In 1993 Annagrazia joined CO.IN. (Cooperative Integrate Onlus), an organisation involved in tourism for disabled people, with the responsibility of developing the Tourism Department at national and international level. She is presently responsible for Training and International Relations in relation to tourism for disabled people, promoting accessible tourist's offer and mobility, exchanging experiences among people with disabilities living in the EU and integration of tourists with disabilities. She has been involved in several national and international seminars and network activities as well as lecturer in training courses on inclusive tourism and equal opportunities. She was responsible for the preparation of the Italian section of the "European Guide for Disabled People" commissioned by the EU.
Travability was formed in 2007 by Bill Forrester and Deborah Davis. It is part of a worldwide group who's mission is to create equality in accessibility in the hospitality and travel industries. Bill specialises in corporate and cultural change. He has extensive experience in facility management, major project delivery, stakeholder relations and corporate training programs. 
Accessible Travel Manager, Lonely Planet
Martin's mission to make travel easier for those who are hampered by issues of accessibility, whether it be through illness, age or disability.Through the Lonely Planet he is building a community that is happy to share ideas, information and experiences through words, pictures and video. The community pulls together the information and resources being gathered by the increasing number of websites and mobile apps around the world.
President and Founder of Village for all (V4A)
Roberto is Member and Spokesman of the Committee for the Promotion of Accessible Tourism at the Ministry of Tourism, and he contributed to the writing of Manifesto del Turismo Accessibile (Accessible Tourism' Manifesto – 2010) and of the Communication International Campaign on Accessible Tourism (2013). From 2009, as V4A's President, Roberto Vitali co-organized the first International Exhibition dedicated to Accessible Tourism.
Magnus Berglund is the Accessibility Director at Scandic Hotels since 2003. Scandic Hotels is the largest hotel operator in the Nordic region with a unique geographical network of 224 hotels and almost 42,000 hotel rooms in seven countries.
Magnus Berglund has created a unique program for the 224 Scandic hotels which has put Scandic in a leading position in the tourism sector for accessibility for guests with special needs.The hotel chain has received numerous awards both in Sweden and International for its successful accessibility work. 
Tools & Resources
Tools & Resources
Compiled by Lonely Planet's Martin Heng, this free downloadable PDF is a huge resource. It includes: Country-by-country resources from national and local government and tourism bodies, as well as disabled people's organisations; dozens of specialised accessible travel agents and tour operators from 40 countries around the world; Websites dedicated to the theory and promotion of accessible travel and much more.
Resources from Visit England for ensuring destinations are as accessible as possible. Contains advice on audits, the correct provision of accessibility information and various case studies of best practice examples.
Extensive range of guidance, tools and resources from Visit England to help tourism facilities provide access for all. Advice on how to make some quick and low cost improvements, an online tool to help write an Access Statement, and information on the Access for All Award and the National Accessible Scheme.
global certification standard designed to ensure that accommodation providers' services and capabilities geared towards senior citizens and those with disabilities can be met and ultimately exceeded.
Wheelmap is an open and free online map for wheelchair-accessible places. It empowers users to share and access information on the wheelchair-accessibility of public places. Like with Wikipedia, everyone can participate by tagging places.
Campaigns
Campaigns
Campaigns to pressure airlines to give equal access rights to people with mobility issues, and provides regular news and resources on related issues. 
Twitter accounts
Twitter accounts worth following
The UK's leading provider of online access guides for a huge range of places of interest.
@BrianMSeaman
Regular and insightful commentator on issues around accessible tourism
Head of Business Support at VisitEngland; tourism accessibility specialist.
Accessible Travel Manager for Lonely Planet.
Infographics
Infographics
Websites
ENAT – European Network for Accessible Tourism
ENAT's website has resources, links, guides, event listings and much more, focussed around accessible tourism, in particular in Europe.
Pantou
Pantou provides an ever-growing directory of suppliers of accessible tourism services in all European Union and Accession countries. It also includes suppliers such as travel agents and tour operators who provide accessible services for Europe-inbound customers.
Rolling Rains is a blog, discussion site and resource provider for issues around Inclusive Tourism.
Global Accessibility News
Global source of information for those involved in the Universal Design, Assistive Technologies, and accessible environments and for people with disabilities.
Accomable
'Airbnb for Accessible Tourism' – aims to provide accessible properties "listed in one place, with detailed access information about the property, the locality and services available."
Videos

A selection of helpful videos to introduce various issues and solutions for accessible tourism. 
Profiting through Accessible Tourism

Benefits of Accessible Tourism

Seminar on accessible tourism at WTM

Scandic Hotels' approach to accessibility

Travindy Accessible Tourism Youtube Playlist

Our youtube playlists are where we showcase useful and interesting films we discover or are sent.  To watch other videos in this Travindy Youtube Playlist, click on the three white horizontal bars in the top left corner of the video window. 
What next?

Please use the buttons to the left to share this report with as many people as possible. And if you are interested in further forms of collaboration, have a look at the options below and get in touch. 
Keep up with the latest news, comment research, reports and resources relating to accessible tourism. Every time we publish on this topic, you'll receive an email with a link to the content. 
Do you know of a resource that we should add to this introduction? Maybe it's an article you've read, a pioneering hotel you have stayed in; or an inspiring speaker you have heard? Please let us know.
Would you like to sponsor this report, or work with us to create one on another topic that might be useful for your organisation's members or company's employees? We'd love to talk to you.